---
Patria to showcase AMV XP 8x8 vehicle and lifecycle service capabilities at IDEB on 3-5 October 2023
Print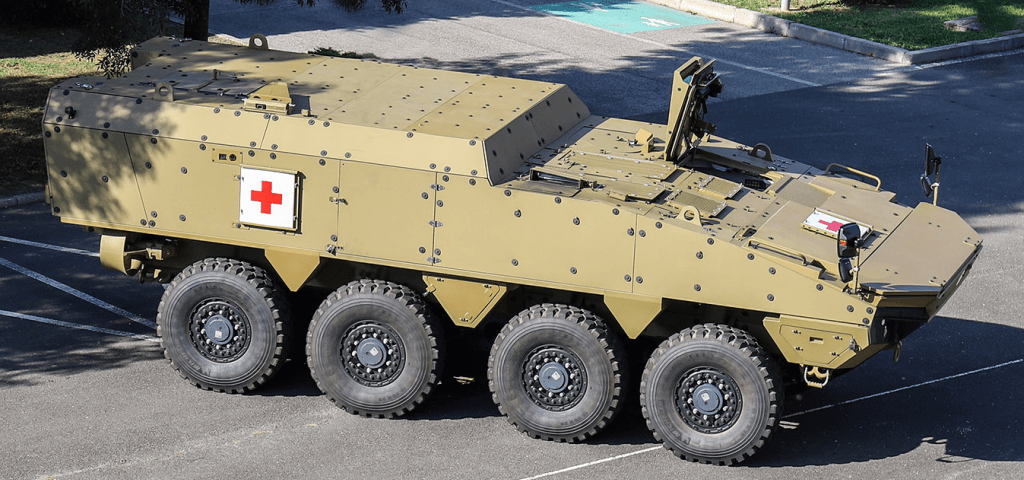 Patria attends the international defence exhibition IDEB in Bratislava, Slovakia on 3-5 October 2023. Patria's stand is 203 in the Hall D. 
In the event Patria showcases the first of 76 Patria AMV XP 8x8 armoured modular vehicles (AMV) which arrived in Slovakia this week. Together with the vehicle, Patria highlights the cooperation with local industry within the Slovakian 8x8 programme.
In addition, Patria highlights its Patria OPTIME lifecycle service offering that covers maintenance support to a vast variety of platforms, including UH-60M Black Hawk helicopters and F-16 Fighter jets, which are the Slovakian Armed Forces' core platforms in the coming decades. 
Patria's offering at IDEB
Patria AMV XP 8x8 is an extremely modern, modular and robust armoured wheeled vehicle providing superior fire power, protection and mobility. Patria AMV XP 8x8 has fully digitalized vehicle data and control systems. 
Patria OPTIME covers a broad range of services and solutions impacting the fleet availability, such as fleet maintenance, upcoming modification projects and needed integrations in the later stages of the lifecycle as well as supply chain management and training services. Patria OPTIME is a modular service model that is always tailored to the customer needs and requirements, and it is set up in phases together with the customer.
Patria 6x6 vehicle is modular and high-performing, but at the same time simple, robust and affordable to provide this tactical capability in larger fleet quantities. It provides modern protection and extreme mobility. Patria 6x6 is perfect for any combat support role. It is evolved from the heritage of the legendary Patria XA series as well as built on on the success of Patria AMV 8x8, that have become an iconic part of the various peacekeeping and crises management missions. 
Patria NEMO is a turreted, lightweight and remote-controlled 120 mm mortar system with a high level of mobility, protection and accuracy. Patria NEMO is capable of both direct and indirect fire, even when the platform is moving. Patria NEMO features modular design and therefore it guarantees maximum flexibility and capability for further growth for diverse requirements to meet the specific needs of modern warfare and threats in a changing environment. Patria NEMO can be used for self-defence and various indirect fire missions. Impressive fire support and rapid response with high crew protection – all in one. 
Further information:
Hugo Vanbockryck, SVP, Market Area Europe, Patria, tel. +32 471 989101, 
[email protected]
  
Patria is an international provider of defence, security and aviation life cycle support services, technology solutions and pilot training. Patria provides its aerospace and military customers with equipment availability, continuous performance development as well as selected intelligence, surveillance and management system products and services. Patria's mission is to give its customers confidence in all conditions, and the vision is to be the #1 partner for critical operations on land, sea and air. Patria has several locations including Finland, Sweden, Norway, Belgium, the Netherlands, Estonia, Latvia and Spain. Patria employs over 3,000 professionals. Patria is owned by the State of Finland (50.1%) and Norwegian Kongsberg Defence & Aerospace AS (49.9%). Patria owns 50% of Nammo, and together these three companies form a leading Nordic defence partnership.
www.patriagroup.com