In a modern warfare and a complex environment, the need for extremely mobile and protected armoured wheeled vehicle with high mobility, protection and fire power is increasing.  
Patria AMV XP 8x8 is an a state-of-the-art modular, and robust armoured wheeled vehicle providing superior fire power, protection, and mobility. Our combat proven AMV family has gained experience from various operations and has become the trusted solution for protecting nations and soldiers. Patria AMV XP is a cost effective and future proof solution for arising demands where sovereignty is at stake.  
Patria AMV XP provides the performance and features of a multi-role vehicle. Patria AMV XP has fully digitalized vehicle data and control systems.  We offer large scale of AMV XP variants to meet the specific needs of our customers worldwide from hot deserts to arctic conditions. With AMV XP Patria provides ultimate security of supply via technology transfer program, localization and through-life support.  
AMV XP is perfect for any operation in any environment where you need the best mobility, survivability and fire power. 
Superior survivability 
AMV XP is available with highest level modular ballistic protection and potential for state-of-the-art active defence systems. With AMV XP troops can be protected against IED, NBC, and it has modular, scalable ballistic protection for up to level K5+ and mine protection even above STANAG level 4a/4b. AMVXP's optimised shape, low radar and thermal signature enable AMV XP's superior stealth features. 
Unrivalled mobility 
AMV XP has state-of-the-art fully independent hydropneumatic suspension system and extremely strong chassis construction for high-speed off-road driving. AMV XP's easy to use and unrivalled mobility is based on high performance drive line together and the superior suspension. It is supported by large wheel size and CTIS for low ground pressure, Run Flat system and optional rear axle steering for enhanced manoeuvrability. AMV XP is available with amphibious capability for water crossing and amphibious landing operations. 
Firepower 
Patria AMV XP's platform characteristics enable the use of any weapon system needed for engaging targets rapidly and with pinpoint accuracy. AMV XP is ideal for integration of medium-calibre weapon systems, direct fire cannon systems up to 120 mm, Patria NEMO 120 mm turreted mortar system and anti-tank or anti-aircraft missile systems. AMV XP's high payload with large internal volume enables carrying all weapon systems, ammunition and the crew equipment according to your mission needs. 
Accomplish your mission: now and in the future 
Together with networked inter-operability, open architecture and fully digitalized vehicle data and control systems with IoT solutions ensure troops to have the best possible platform to meet their objectives. AMV XP's electrical power generation is measured to match the future requirements for C4I, Battlefield Management and Situational Awareness Systems, Health and Usage Monitoring System (HUMS) together with the vehicle's digital backbone. 
Diverse mission requirements and rapidly changing environment lead to the fact that it is crucial to engage continuous and efficient product development to keep the equipment always up to date. Patria AMV XP is the right choice for the coming decades. We guarantee reliable maintenance services that responds to future needs. Whatever your critical mission requirements for the equipment, with AMV XP you are ready today for tomorrow and the mission will be accomplished. 
Variants 
Patria AMV XP 8x8 has been developed to provide optimal modularity of components and to be adaptable for a wide range of versions without changing basic vehicle systems. 
Patria AMV XP is available in two different models: 
Basic model provides the platform for following variants: armoured personnel carrier (APC), infantry fighting vehicle (IFV), command vehicle, ambulance, reconnaissance vehicle, anti-tank guided missile vehicle (ATGM), armoured repair and recovery vehicle (ARRV), fire-support vehicle with mobile cannons and finally, the 120 mm Patria Nemo mortar system. 
High Roof model provides extra height at the rear of the vehicle, which is ideal if the vehicle is used as a command, C4I, ambulance or workshop vehicle. 
Both Basic and High Roof models and all their variants of AMV XP are available both regular and extended wheelbase variants.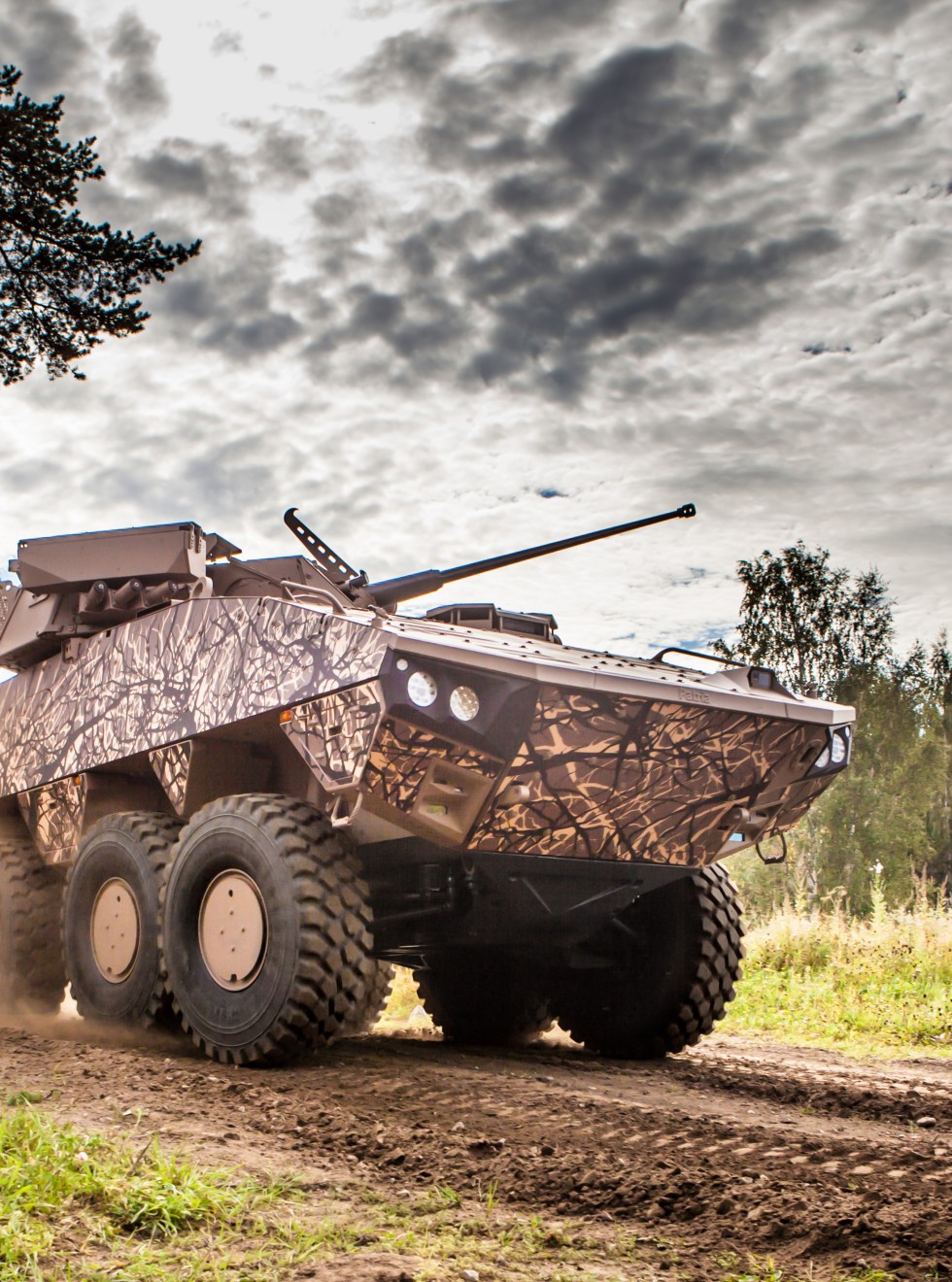 Downloads
Products in the same category
Other fields of expertise
Battlefield and critical systems
Through life capability