---
Germany signs a Statement of Intent to join CAVS 6x6 vehicle programme
Print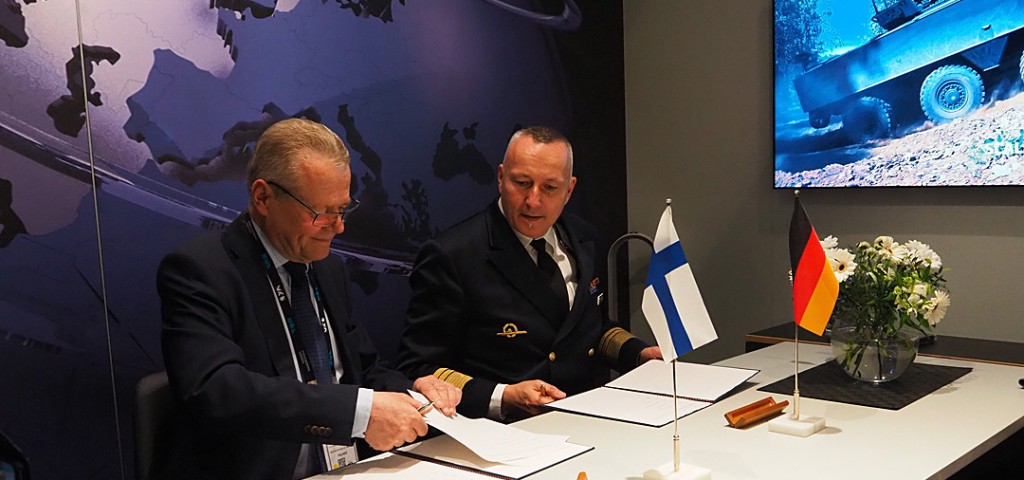 Photo: Raimo Jyväsjärvi, National Armament Director (left) and Carsten Stawitzki, National Armament Director of Germany
Germany has signed a statement of intent to join the Finnish-led, Common Armoured Vehicle System, CAVS programme. The official joining agreement is due to be signed before the end of 2022. Germany will be the fifth country to join the first stage of the multinational cooperation. Finland, Latvia and Estonia entered into the programme in 2019 and Sweden in 2021. Patria as the chosen provider of 6x6 vehicle platform is responsible for system development within CAVS.
The joint programme is open to other countries sharing similar requirements with the mutual consent of the participating countries. Within the CAVS programme Latvia has ordered more than 200 personnel carrier armoured vehicles in August 2021, of which Patria has delivered already over a dozen. Finland signed a letter of intent in August 2021 for 160 new personnel vehicle carriers and pre-series deliveries for Finland take place in June. Sweden signed an R&D agreement earlier this month for the research and product development phase.
"Patria 6x6 is a modular solution that can cover a wide range of needs. The interest from Germany towards the CAVS programme is yet another proof of a great concept. Having new parties involved in the programme benefits everybody in the form of improved mobility and maintenance capacity as well as increased cost-effectiveness" says Hugo Vanbockryck, Head of Market Area Europe at Patria.
Further information:
Hugo Vanbockryck, Senior Vice President, Market Area Europe, Patria, tel. +32 471 989101, [email protected]
 Patria is an international provider of defence, security and aviation life cycle support services, pilot training and technology solutions. Patria provides its aerospace and military customers with equipment availability, continuous performance development as well as selected intelligence, surveillance and management system products and services. Patria's mission is to give its customers confidence in all conditions, and the vision is to be the #1 partner for critical operations on land, sea and air. Patria has several locations including Finland, Sweden, Norway, Belgium, Estonia, the Netherlands and Spain. Patria employs 3,000 professionals. Patria is owned by the State of Finland (50.1%) and Norwegian Kongsberg Defence & Aerospace AS (49.9%). Patria owns 50% of Nammo, and together these three companies form a leading Nordic defence partnership.
www.patriagroup.com