---
Minister of Defence of Latvia visited Patria's site in Hämeenlinna
Print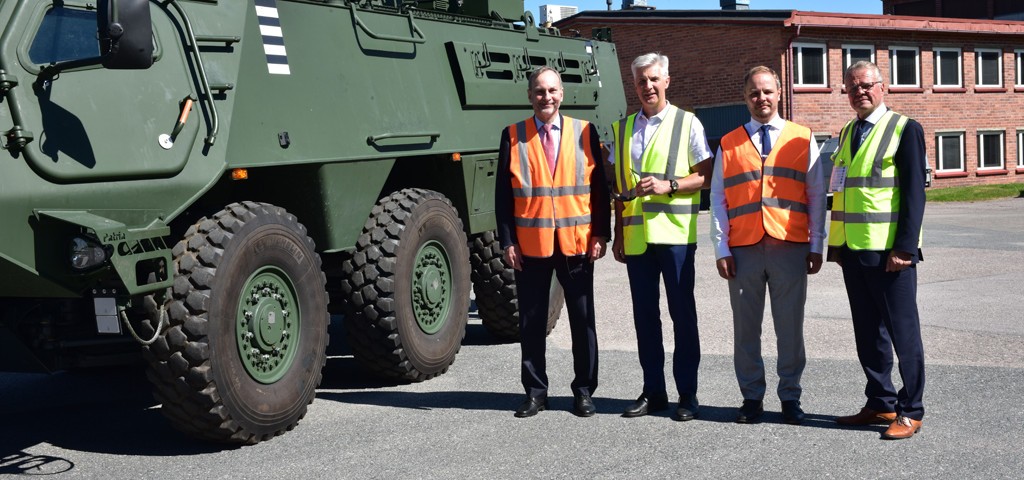 The Minister of Defence and Deputy Prime Minister of Latvia Artis Pabriks (2nd left) hosted by Patria's President and CEO Esa Rautalinko (left) and Jussi Järvinen (2nd right), President, Land business unit, and Raimo Jyväsjärvi, Director General, National Armaments Director at Ministry of Defence
The Minister of Defence and Deputy Prime Minister of Latvia Artis Pabriks visited Patria's site in Hämeenlinna. The focus of the visit was Patria's 6x6 vehicle platform, its technology and production facilities.
Latvia and Finland have signed a technical agreement on the launch of a joint research and development program aiming at the development of a new armoured vehicle system based on the 6x6 vehicles manufactured by Patria.
According to the Latvian Ministry of Defence it is important that Latvian companies will be involved in a certain part of the production, which will increase the security of supply of defense supplies and create the preconditions for the development of the national defence industry.
"Patria's wide know-how and a long experience in technology transfer is a solid basis for the local vehicle manufacturing in Latvia. The target is always to establish a cost-efficient supply chain which usually requires localized production and use of local supplier networks. Preparations for the 6X6 vehicle programme operation model are progressing as planned and the manufacturing network in Latvia is growing substantially", says Jussi Järvinen, President, Patria's Land business unit. 
For further information:
Jussi Järvinen, President, Land business unit, Patria, jussi.jarvinen@patriagroup.com
Patria is an international provider of defence, security and aviation life cycle support services, pilot training and technology solutions. Patria provides its aerospace and military customers with equipment availability, continuous performance development as well as selected intelligence, surveillance and management system products and services. Patria's mission is to give its customers confidence in all conditions, and the vision is to be the #1 partner for critical operations on land, sea and air. Patria has several locations including Finland, Sweden, Norway, Belgium, Estonia and Spain. Patria employs 3,000 professionals. Patria is owned by the State of Finland (50.1%) and Norwegian Kongsberg Defence & Aerospace AS (49.9%). Patria owns 50% of Norwegian Nammo, and together these three companies form a leading Nordic defence partnership.
www.patriagroup.com
PATRIA MAGAZINE
Upcoming events
Kielce, Poland
6.9.2022 - 9.9.2022
MSPO
Tartu, Estonia
19.9.2022 - 22.9.2022
EWLive2.0