Print
Daniel Mattinson sells Patria's strong maintenance expertise to business customers in Europe. The seller must have accurate knowledge of the safety and quality standards required for maintenance of helicopters and the backup generators of nuclear power plants.
Patria's Senior Sales Manager Daniel Mattinson studied economics in Stockholm. He has spent his whole career working in sales and marketing. Four years ago, he joined Patria's helicopter unit in Arlanda, where along with military machinery he handles repairs and maintenance of helicopters for commercial operators.  
– My responsibilities include sales of services to private sector customers in Europe, says Mattinson. 
The clientele is wide and consists of companies that operate helicopters in various industries for purposes such as ambulance transportation, fire control, inspection of energy networks and lifting services.  
– Corporate customers usually make fast decisions when acquiring new services, whereas projects on the military side take more time, Mattinson says.  
As Patria's new strategy emphasises internationalisation and growth, Mattinson's field of operations has expanded to cover services for Patria's civil customers. They include demanding engine maintenance and repairs that are carried out at Patria's Linnavuori site in Nokia. On the civil side, this repair site is known especially for its maintenance of the diesel generators of nuclear power plants.  
– It's been interesting to get to grips with the expertise and services that Patria can offer to civil customers. 
The services marketed by Mattinson must all comply with strict safety and quality standards.  
– Skilled mechanics alone are not enough. In addition, we need approval from the original equipment manufacturer to verify that the servicing agent has sufficient qualifications to perform the necessary actions.  
Patria has a lot of experience and references in terms of exact compliance with the regulations laid down by the public authorities and original manufacturer. Gaining competence in these cases requires a lot of work.  
– When it comes to orders from the authorities in different countries, the basic orders are the same but there are country-specific differences in the details. They must be managed. The same applies to the original equipment manufacturer's instructions – we must be well-versed in these practices.
Mattinson thinks that the most enjoyable aspect of Patria's sales of services is the scope of the work and the high requirements set by customers. His job description includes visits to customer sites and attending exhibitions within the field. 
– To engage in conversations with the customers, I need to carefully familiarise myself with the technical issues, because they have deep knowledge about them. The strong competence of other Patrians provides priceless help to support me in this work. Every project requires close teamwork – which works brilliantly at Patria. 
Meet the people of Patria

Meet the people of Patria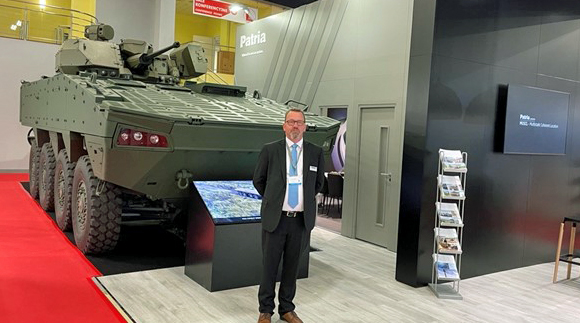 Meet the people of Patria