Print
Several European police forces were involved in FRONTEX's operation on the Greek island of Lesbos in October and November 2016. The Swedish Police helicopter unit took part in the operation for two months and Patria supported them. Their mission was to scout the Greek borders on Lesbos from the sea in search of the refugees.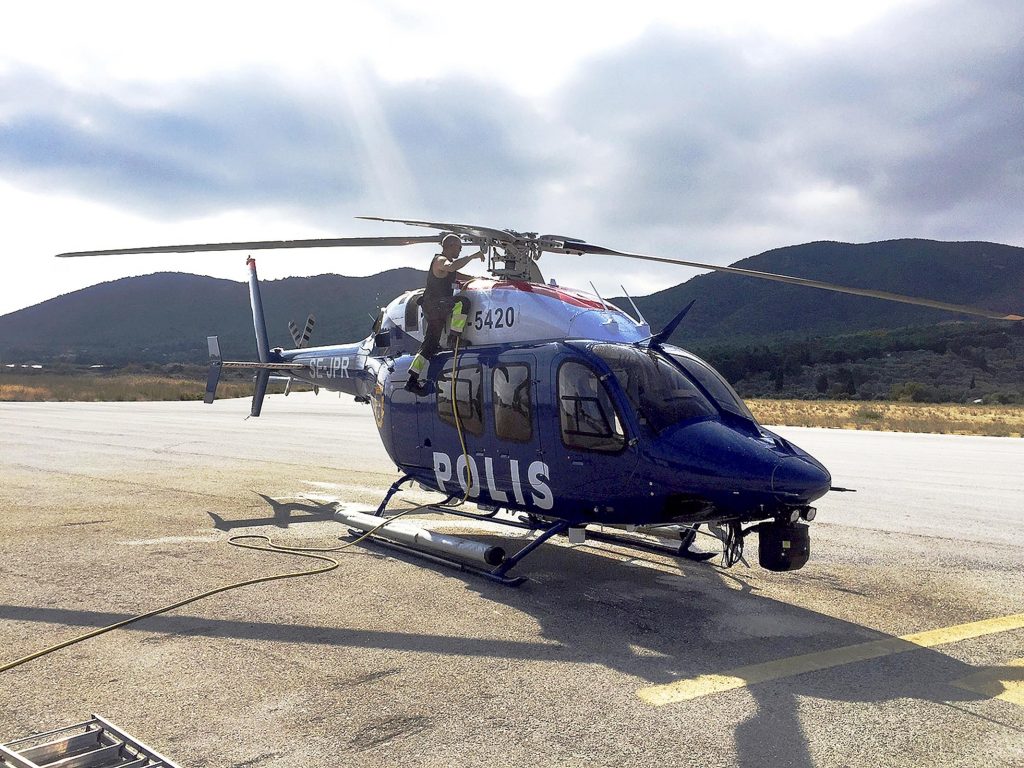 Patria Helicopters AB has a contract to support the helicopters of the Swedish National Police (SNP). The contract has been renewed many times since the cooperation started in 1964. Patria supported SNP during the Lesbos operation making daily check-ups on the helicopter and maintained the helicopter during the operation.
– We prepared ourselves for working in a remote location by having a 40-foot container set up with technical support of tools, spare parts, working area and a small office in order to support the on-site activities for the flying operation. Helicopter didn't give many surprises: it worked well during the operation. This of course means that our preparations were well done before the transition to the area, Patria's Senior Director of Business Development, Thomas Järlinge says. Operation gave Patria a possibility to support their client in a different kind of environment, and fortify their skills in international maintenance of helicopters. – One of Patria's values is customer oriented approach, and we want to serve our customers where ever they need us. We're ready to face even special challenges like this. It's good practice for our mechanics for finding creative solutions during fieldwork. The whole company learned more about preparing ourselves for this kind of international missions, says Jouni Majuri, Managing Director at Patria Helicopters AB.
Educational field experience
The European Border and Coast Guard Agency FRONTEX coordinates and develops European border management. It coordinates the use of additional experts and technical equipment to those border areas which are under significant pressure. One of their tasks is monitoring migratory flows, and on Lesbos the Swedish Police informed the Greek and Turkish border control units about the immigrant boats they saw approaching Lesbos.
– Our technician inspected the helicopter daily. He had a conversation with the pilot and the operator after every flight and heard if there were any problems. There were two flights a day, six days a week. The helicopter flying hours during the operation were approximately 240 hours, which is about 20% more than a Swedish Police helicopter would normally fly in two months' time, Järlinge says. The Lesbos operation was the first customer support field mission for Patria Helicopters outside the Nordic countries.
– We learned several things: working in a foreign environment, how to prepare ourselves for another mission, and how to even further improve the container set-up. Next time we'll have two 20-foot containers instead of one 40-foot container. The smaller ones are easier to handle, and it's better to have one container for office use and one for storage. We learned which tools and spare parts were needed. During this kind of operations, it's important to be flexible and be able to work in changing situations, Järlinge explains. Patria maintains 100% of the Swedish Police Helicopters' operation and performs all scheduled and unscheduled maintenance. –  This kind of service is part of our field team missions and support to helicopter customers and, of course, part of our important support for the Swedish Police helicopter operations. The Lesbos operation confirmed our client that we're a partner they can trust, and we've now integrated our systems even better than before. The operation was a success for the Swedish Police, Järlinge concludes.