Patria CANDL - Compact Airborne Networking Data Link
Patria CANDL provides a single data link solution for communications requiring high reliability, such as UAS payload data and C2. It enables air-to-air and air-to-ground Ad Hoc Networking as well as relaying for BLOS capability, thus enabling capabilities such as MUMT - Manned UnManned Teaming and LVC – Live Virtual Constructive training.
8 Mbps data rate with additional safety features for C2, dynamic Ad Hoc Networking communication, motion video and digital voice capability are all integrated in one Software Defined Radio based compact airworthy terminal.
Our CANDL covers NATO IV C-band as well as WRC 2012 defined civil UAS C2 frequency band in single housing enabling both military and civil UAS applications. Networking and range performance can be further extended with optional external HPA (High Power Amplifier) module.
C2 & Payload Data
Secure Command & Control for UAV platforms, payload and missiles
Payload data (HD video, IR, SAR) for manned/unmanned platforms
Distribution of situational awareness through networked data transfer for fighters
Operation in GPS-denied environment
Platform independent system (air, naval, ground)
Legacy systems upgrade for enhanced performance
Manned-Unmanned Teaming (MUMT)
Force multiplier in hostile environment
Multi-platfrom and swarming capability
Mission distributed decision-making and co-ordination
Optimisation of the role and performance of the platform on-the-fly
Real-time communication through ad-hoc IP-network
Live Virtual Constructive (LVC) Training
Cost effectiveness utilising simulators and synthetic forces
More demanding and easily scalable training scenarios
Hiding warfighting tactics into secure digital environment
Enabling complex training scenarios for manned and unmanned platforms
Joint-networked, real-time communication between all Live, Virtual and Simulated assets
 
Patria CANDL Key Characteristics
Networking
TDMA with dynamic reconfiguration
Full IP compatibility
Up to 24 network members
Robust and flexible network management
Internal or GPS based synchronisation
Low probability of Intercept / Detection
Frequency Hopping (FH)
Direct Sequence Spread Spectrum (DSSS)
Automatic diversity selection for two antennas
Adaptive Throughput
Up to 8 Mbit/s (user configurable)
Different Class of Service (CoS) levels
Encryption
AES-256 based encryption
User authentication and user-specific encryption keys
Range
> 150 km / 80 NM LOS
> 250 km / NM LOS (external HPA)
Relaying for BLOS and range extension
Range measurement
Software Defined Radio Architecture
Software configurable waveform
Flexible user specific tailoring 
Easy capability upgrades
Qualified solution for UAS Applications
STANAG 4586 compatible
DO-160 and MIL-STD-810 environmental qualification
Frequency Band
NATO IV C-band
WRC-2012 civil UAS C2
SW configurable frequency/channel allocation and hopping pattern
Patria CANDL Terminal
Designed for the most demanding environmental conditions including high speed aircraft
Optional internal COMSEC/encryption module
Size: 110 x 175 x 100 mm (4.4 x 6.9 x 4.0 in)
Weight: 2.5 kg (5.5 lbs)
Power: typical 55W
Conduction cooled
Optional external HPA (High Power Amplifier)
Extended range capability
Size: 100 x 162 x 43 mm (4.0 x 6.4 x 1.7 in)
Weight: 1.0 kg (2.2 lbs)
Power: typical 150W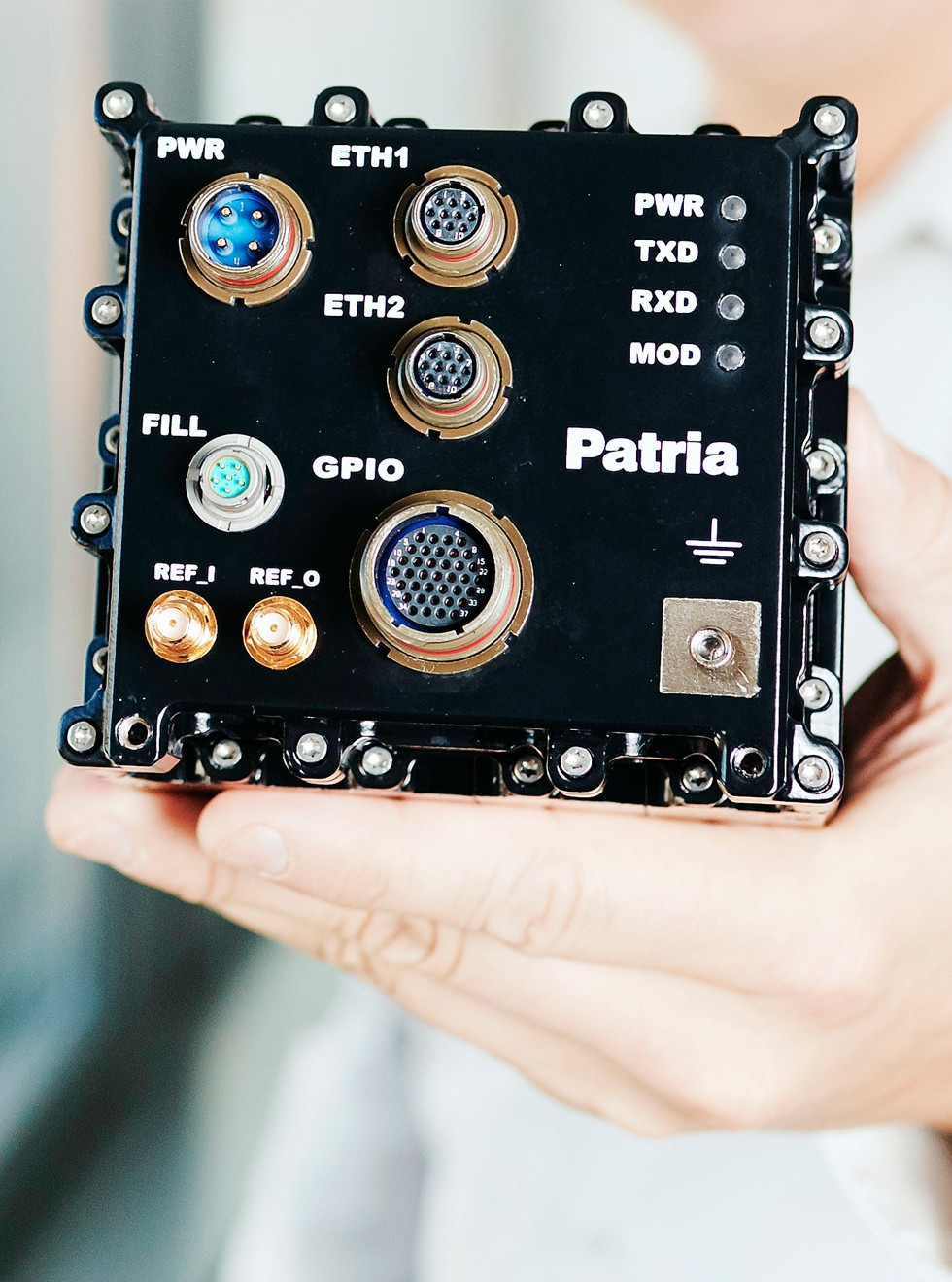 Downloads
Other fields of expertise
Through life capability