---
Patria Group's Financial Review for 2021 – preliminary data
Print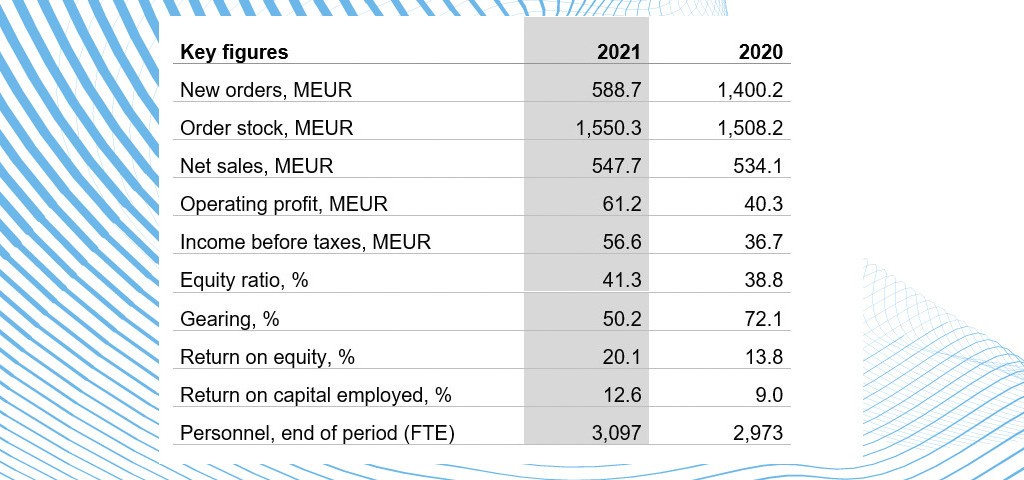 Profitability at a good level — a strong foundation for future growth


 
The financial review of 2021
Patria Group's operating profit was EUR 61.2 million, growing EUR 20.9 million from the previous year and the net sales was EUR 547.7 million.

Patria Group's financial performance and profitability for the financial year 2021 were at a strong level, in spite of COVID-19.

Value of new orders received was EUR 588.7 million.

Equity ratio was 41.3% and net gearing 50.2%.
Highlights of 2021
Patria launched its new growth strategy aimed at ambitious growth by the end of 2025. A new operating model to support the growth strategy was also prepared and was taken into use at the beginning of 2022. Cooperation negotiations covering the whole Patria were conducted in good cooperation between all personnel groups and the company.

The decision on Finland´s future F-35 fighter jets is a significant opportunity for Patria, and the company has been actively involved in the preparations supporting the Finnish Defence Administration and the HX programme. The main task has been ensuring national security of supply, maintenance of the equipment and meeting industrial cooperation requirements. The fighter procurement decision will also open Patria access to the global F-35 supply chain.

Finland and Latvia signed a frame agreement with Patria for a production phase management of the joint 6x6 armoured vehicle system. In addition, Latvia and Patria signed a delivery contract comprising of over 200 6x6 armoured personnel carriers developed in the joint development programme including also support and training systems. The vehicle deliveries will take place between 2021 and 2029. Finland and Patria also signed a letter of intent for Finland's future serial deliveries.

As part of the European Defence Industrial Development Programme (EDIDP), Patria was selected to lead a defence industry consortium developing future armoured platforms and upgrading existing ground combat capabilities. The consortium comprises 19 leading defence companies from different EU countries.

Patria is also involved in a joint project of three northern European states chosen by the EU as part of EDIDP to develop maritime and aerial surveillance capabilities. The Member States are Sweden, Finland and Estonia.

The COVID-19 pandemic had a significant impact on Patria's civilian flight training as well as the Aerostructures business, causing cooperation negotiations on all their personnel. For other businesses the effects of the pandemic were moderate.

Patria ranked in the second-highest category B in Transparency International Defence & Security's anti-corruption survey.
Outlook for 2022
Focusing on its new growth strategy, Patria will ensure an undisturbed implementation of its new operational structure and continues to strengthen its operational efficiency as well as its financial performance. Patria's reliable and cost-effective life cycle support services together with state-of-the-art products have a key role also in the future maintaining required performance of customers' fleets in all conditions.
With the F-35 decision, negotiations on industrial cooperation will intensify within the framework of the selected aircraft.
Patria 6x6 vehicle development programme with Finland and Latvia is proceeding as planned, and Sweden has indicated its willingness to join in order to improve the mobility of its armed forces.
Further information:
Ville Jaakonsalo, Chief Financial Officer, tel. +358 500 881 070, [email protected]
Patria is an international provider of defence, security and aviation life cycle support services, pilot training and technology solutions. Patria provides its aerospace and military customers with equipment availability, continuous performance development as well as selected intelligence, surveillance and management system products and services. Patria's mission is to give its customers confidence in all conditions, and the vision is to be the #1 partner for critical operations. Patria has several locations including Finland, Sweden, Norway, Belgium, Estonia and Spain. Patria employs 3,000 professionals. Patria is owned by the State of Finland (50.1%) and Norwegian Kongsberg Defence & Aerospace AS (49.9%). Patria owns 50% of Nammo, and together these three companies form a leading Nordic defence partnership.
www.patriagroup.com