---
Engineering professionals ranked Patria among top 5 employers
Print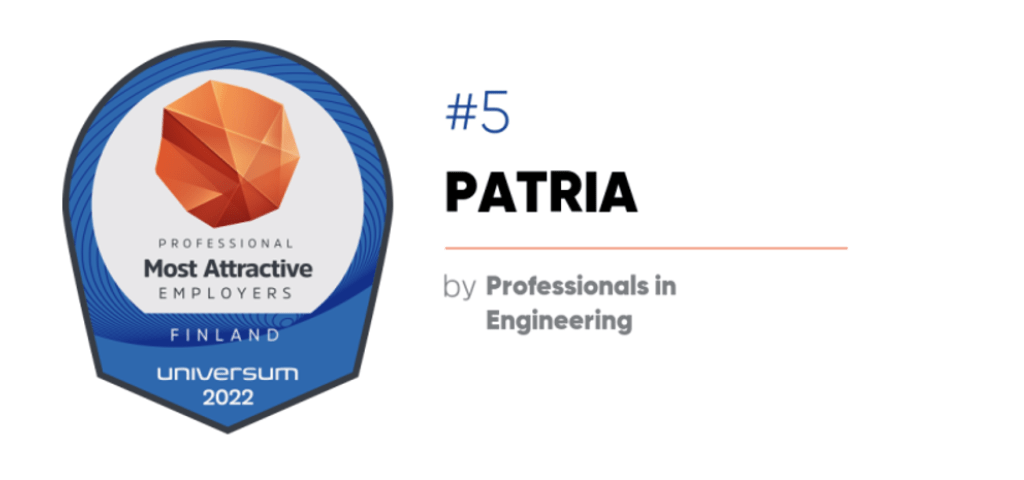 Engineering professionals value Patria as an employer more than ever. As the biggest riser within top ten, the international provider of defence, security and aviation services ranked 5th in a brand image survey by Universum – a significant leap from 12th place in the previous year.  
"We are delighted to see that engineering professionals are increasingly taking interest in Patria as an employer and viewing us in a new light," says Katja Viiankorpi, Vice President, People & Growth at Patria.
"I'm sure that our current employees have contributed to this achievement through the image they have conveyed of their workplace to industry colleagues."
Although Patria's ranking improved among engineering professionals the most, there was a clear rise within other professional groups as well. Patria was evaluated in the survey besides engineering professionals also by IT and physics professionals.
Employer brand images are studied and ranked by the employer branding specialist Universum. This year, Universum surveyed the views of more than 9,000 experts on their career aspirations and employers in Finland. Professionals from 48 industries took part, including more than 1,700 who work in engineering.
Meaningful work and work-life balance
According to Katja Viiankorpi rising to top five is a great achievement, and one that is founded on consistent work. Patria has ambitiously developed its employee experience,d employer brand and company image for several years. 
Based on the insight gathered along the way, she knows what professionals value: 
"Security has recently become one of the most current and critical topics in the world, and this has increased Patria's visibility and attractiveness among prospective employees. Similarly, we - Patria people - strongly feel that our work serves an important purpose. Everyone's input, skills and dedication matters." 
In addition to meaningful work, professionals appreciate learning and development opportunities as well as work-life balance. On these Patria has put a lot of effort.
"It's been rewarding to hear our people say that at Patria, you can have a great career doing work that matters and also have space for private life. Among the professionals Patria is seeking to connect with, work-life balance is also growing in importance."
Viiankorpi emphasises that while this year's Universum rankings were a great achievement, constant development remains a priority. With a hundred years' heritage Patria is facing an unseen transformation meeting the needs of the rapidly changing operational environment – while undergoing internal development at the same time. 
"We recently made some bold moves as a company, completely renewing our growth strategy and operating model. Changes always come with challenges, but you can really feel that our people are motivated to do their job well and succeed together. There's a tangible, shared awareness that Patria is living through a historical turning point, and we are all proud to be part of it." 
More information:
You make the difference – learn about career opportunities at Patria: www.patriagroup.com/work-with-us 
Katja Viiankorpi, Vice President, People & Growth, Patria, tel. +358 40 869 3069, [email protected]
Sirje Ahvenlampi-Hyvönen, Vice President, Group Communications, Patria, tel. +358 50 557 3822, [email protected]
Patria is an international provider of defence, security and aviation life cycle support services, pilot training and technology solutions. Patria provides its aerospace and military customers with equipment availability, continuous performance development as well as selected intelligence, surveillance and management system products and services. Patria's mission is to give its customers confidence in all conditions, and the vision is to be the #1 partner for critical operations on land, sea and air. Patria has several locations including Finland, Sweden, Norway, Belgium, Estonia, the Netherlands and Spain. Patria employs 3,000 professionals. Patria is owned by the State of Finland (50.1%) and Norwegian Kongsberg Defence & Aerospace AS (49.9%). Patria owns 50% of Nammo, and together these three companies form a leading Nordic defence partnership.
www.patriagroup.com
Universum is a global leader in employer branding. Its services include actionable research, strategic consulting, and data-driven communications and social media solutions for talent branding, sourcing, and analytics. On an annual basis, Universum surveys over 1,000,000 students and professionals world-wide.
https://universumglobal.com