---
Patria Group's Interim Report for 1 January – 31 March 2021
Print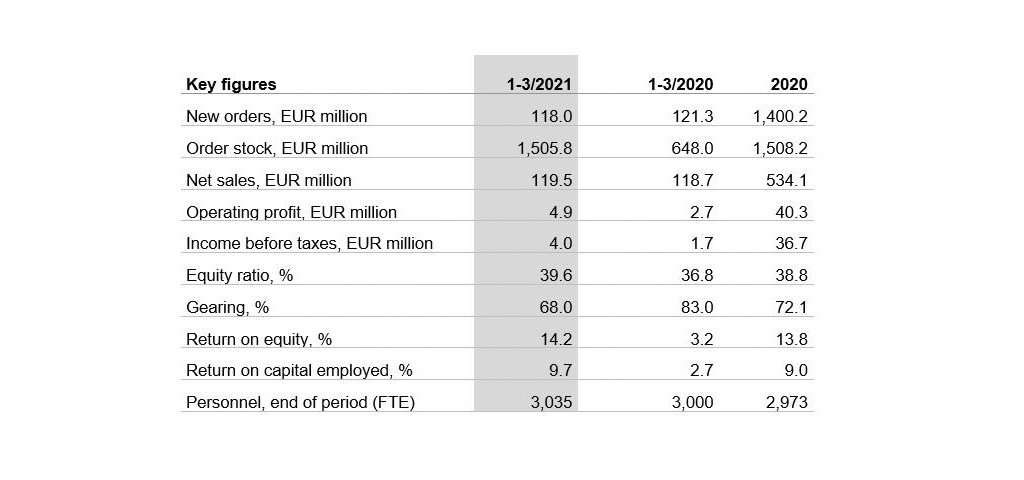 Patria well-ranked in Anti-Corruption study by Transparency International  
The first quarter
Patria Group's net sales for the first quarter was EUR 119.5 million (EUR 118.7 million in 2020).
Operating profit was EUR 4.9 million (2.7).
Equity ratio was 39.6% (36.8%) and net gearing 68.0% (83.0%).
Patria was ranked in the second-highest category B in Anti-Corruption study by Transparency International Defence & Security.
Patria finalized the qualification of Patria Nemo's new fire-on-the-move capability on land-based systems in both direct and indirect fire missions.
Patria fulfilled its offset and industrial participation obligations related to the Patria AMV 8x8 delivery programme in Croatia.
Patria attended the international defence exhibition IDEX in February 2021 showcasing several state-of-the-art products.
Outlook for the rest of the year
With focus on its new growth strategy, Patria continues to strengthen further its operational effectiveness and financial performance. Patria's reliable and cost-effective lifecycle support services and top-notch products have a key role also in the future to maintain the required performance of customers' fleets in all conditions.
The significant HX Program for replacing the current Hornet fleet with new fighters continues, and Patria negotiates with the respective manufacturers about the industrial participation, providing an extremely important and long-standing opportunity to Patria.
Patria 6x6 vehicle programme with Finland and Latvia proceeds as planned, and Patria expects the program leading to actual vehicle system procurements during 2021. It is also foreseen that the programme will be of interest to other countries wishing to improve mobility of their armed forces.
Further information:
Ville Jaakonsalo, Chief Financial Officer, tel. +358 500 881 070, [email protected]
Patria is an international provider of defence, security and aviation life cycle support services, pilot training and technology solutions. Patria provides its aerospace and military customers with equipment availability, continuous performance development as well as selected intelligence, surveillance and management system products and services. Patria's mission is to give its customers confidence in all conditions, and the vision is to be the #1 partner for critical operations. Patria has several locations including Finland, Sweden, Norway, Belgium, Estonia and Spain. Patria employs 3,000 professionals. Patria is owned by the State of Finland (50.1%) and Norwegian Kongsberg Defence & Aerospace AS (49.9%). Patria owns 50% of Norwegian Nammo, and together these three companies form a leading Nordic defence partnership.
www.patriagroup.com