Print
Patria also presented itself as a place of employment at the Turku Air Show. Interesting jobs are available in all business units in several locales.
Text: Matti Välimäki
Photos: Ilari Välimäki
According to Patria VP of Human Resources Mira Mattila, aviation and aircraft technology interest people, but there is not always enough awareness of the jobs offered by the industry. "At the Turku Air Show, we wanted to inform people of the opportunities in the industry, particularly of the interesting and meaningful jobs Patria offers. We have a constant need for aircraft mechanics, aircraft fitters and avionics installers, for example. The same applies to flight instructors and, in particular, stress analysts." The Aviation business unit offers life-cycle support services for aircraft and helicopters, maintenance for gas turbines and diesel engines, and pilot training. There are currently around 800 employees in these positions.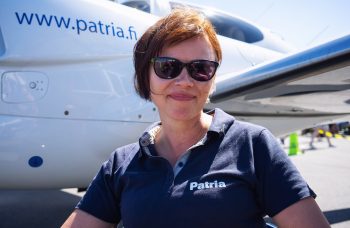 Mira Mattila, VP of Human Resources at Patria
Patria invests in training
In order to obtain skilled personnel, Patria has recently invested a lot in training in the industry, using such means as apprenticeship and recruitment training. The opportunities provided by conversion training are currently being analysed. "In apprenticeship training, you can learn the job of an aircraft mechanic in a maintenance environment, for example, and then take the vocational examination of an aircraft mechanic. The theoretical and work-based learning periods are a total of two years in length." In addition, Patria and the University of Tampere work in cooperation. Beginning this autumn, you can study aeronautical engineering as the main subject in the university – previously, only secondary subject studies were available "In the future, you will be able to graduate as a Master of Science in aeronautical engineering from the mechanical engineering degree programme of the University of Tampere", shares Mattila.
Software excellence
At the Turku Air Show, Systems' VP of Human Resources Krista Puustelli-Lahti noted that the general public may not know that Patria also has very strong expertise in software. "The Systems business unit is a centre of excellence in software know-how and system integration. We currently have 360 software experts, 100 of whom joined us during the last 18 months." Intense recruitment will continue this year as well. The software side of things has been growing fast. As an example of our cutting edge know-how, I will mention the new remote air traffic control system.
Ordinary people solving unordinary challenges
According to Puustelli-Lahti, Systems offers very interesting work assignments to software experts. "First of all, the sector is very important – each of us is working to secure the functioning of society." She described Systems as a place where the advantages of a large and stable company are combined with the agility of a smaller software company. "There are great opportunities to develop your professional skills, because with us, you get to participate in the entire lifecycle of software development. The processes extend from the specification of customer requirements all the way to testing and production." Puustelli-Lahti mentioned that Systems has more than 100 different projects running all the time. Ordinary people are solving unordinary challenges: "At Patria, you get to perform quite unique work, such as testing the software of an F/A-18 Hornet or developing software for the HAWK trainer aircraft."