Print
For 50 years, the Linnavuori tunnel complex in Nokia has been home to a repair shop for heavy-duty engines operated by the Finnish Navy and various industrial plants.
Text: Matti Remes
Photos: Rami Marjamäki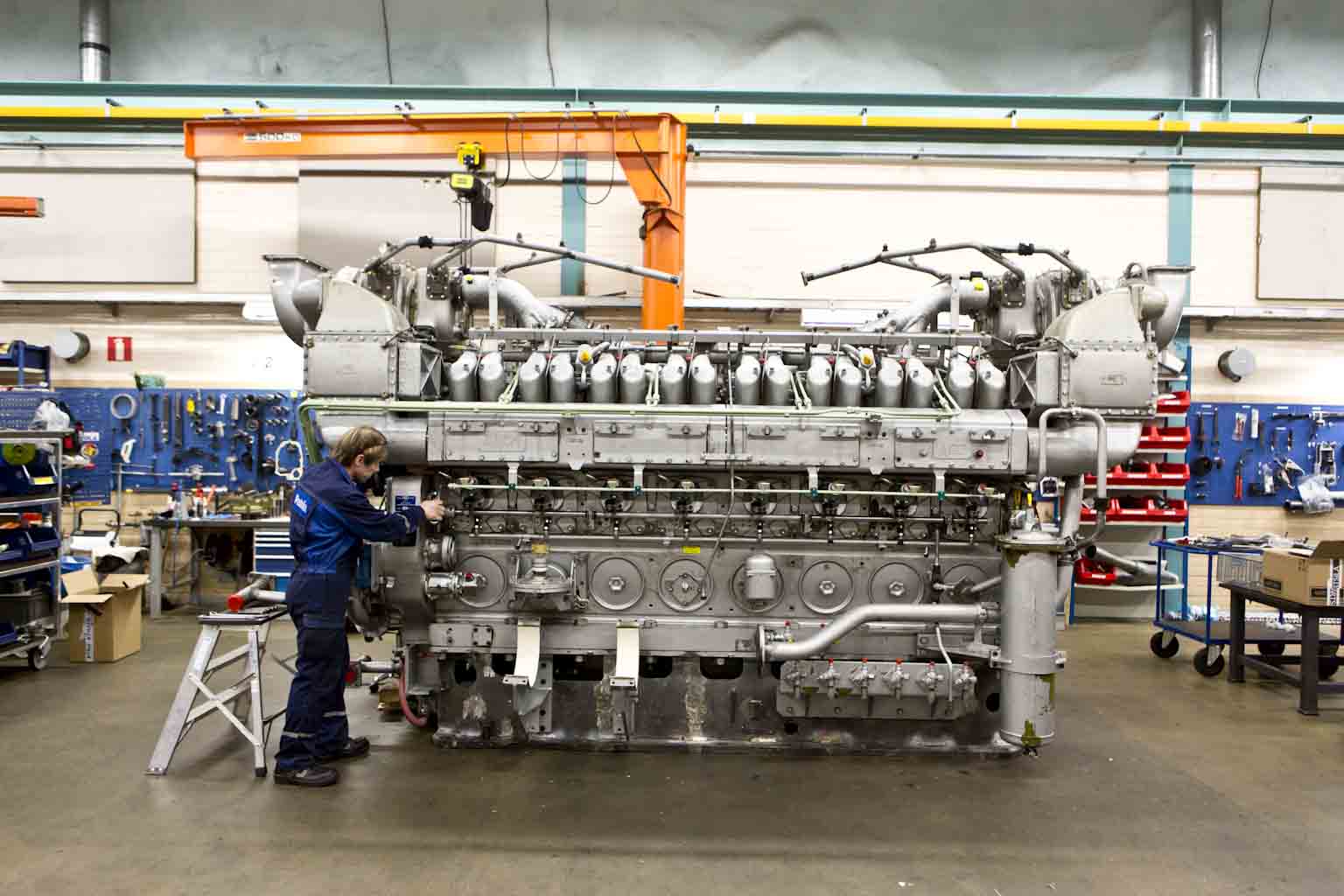 A tunnel complex excavated in the rock of Linnavuori, Nokia, houses a modern repair shop whose facilities and equipment represent the state-of-the-art in Europe. This is Patria's repair shop for diesel engines, which mainly specialises in large diesel engines operated by the Navy and nuclear power plants. The same tunnel complex also houses a unit that services and repairs gas turbine engines from aircraft and industrial plants. Seppo Tamminen, head of Patria's diesel engine unit, says that diesel engine maintenance is one of Patria's lesser known but key competence areas. "The repair of large maritime diesel engines began here as early as 1964," Tamminen says.
A clientele representing both the civilian and military sectors
Our first proper diesel engine client was the Finnish Border Guard, which had the Mercedes-Benz (current MTU) engines of its Lintu class patrol boats serviced at the Linnavuori facility. At about the same time, the first Russian-made M50 engines of the Finnish Navy's Nuoli class motor gunboats were sent to us for servicing. Since then, nearly all engines of the Finnish Navy combat vessels have been serviced at Patria. "Bursting with power, the 56-cylinder radial engines of the Tuima class missile boats are particularly worth mentioning," Tamminen says. Over the years, the repair shop's clientele has expanded to include the civilian sector. In the early 1990s, the emergency power generators at the Olkiluoto and Loviisa nuclear power plant were added to our service range. Over the last few years, Patria has maintained different types of diesel engines operated by the Army armoured units, shipping companies, ferry transport companies, mining companies and various industrial plants. Among the more unusual engines have been those of lorries tuned for racing.
Assignments at short notice
Each year, 12 to15 large diesel engines are overhauled in Linnavuori, a figure supplemented by a large number of smaller projects. In addition, a large amount of maintenance and installation work is carried out aboard customers' vessels, or on other premises. "Overhauls involving extensive work are performed at Patria's repair shop, while smaller jobs can be carried out on the customer's premises," Seppo Tamminen states. Erkki Martikainen, a type rated engineer for maritime engines, says that maintenance teams set off on assignments at short notice. "Rapid action is required if, for example, a problem develops in a vessel's main engine, and the ship needs to set sail after refuelling," Martikainen says, illustrating a typical scenario. Newer engines may also develop problems with their electronics, for which Patria's experts can provide solutions.
Reliability is everything
Maritime engines are one of Patria's key product groups. With regard to their maintenance, reliability is at a premium, Erkki Martikainen states. "Reliability is the outcome of work undertaken by our professional personnel, of our adherence to the guidelines provided by the engine and device suppliers, and of our using original spare parts. These are the principles that we strictly adhere to," Martikainen says. For example, the main engines of the Navy missile boats are given an overhaul every 6,000 operating hours. Intermediate maintenance is carried out every 3,000 hours. "At Linnavuori, engines are subjected to test runs following maintenance. This ensures that the engines will work properly, their adjustments are as required and no leaks occur," Martikainen says. Less extensive maintenance and replacement operations are performed by the customers themselves. Even then Patria is often involved, for example, in the maintenance of removable components such as fuel system devices. "The customer detaches such devices from the engine and ships them to us. At Linnavuori, we inspect the devices and return them to the customer after the completion of maintenance."

The Navy's MTU 16V 538 motor in a test run.
Spare parts for ageing engines
A testimony to the high standard of expertise found in the Linnavuori tunnel complex lies in the fact that Patria has long been the authorised repair shop for MTU engines in Finland. Well-functioning cooperation with engine manufacturers ensures that Patria is also able to obtain spare parts for older engines. "Repairing old engines rarely poses a problem. For example, MTU is able to deliver parts and seals subject to wear and tear straight off the shelf for engines that may be up to 50 years old," Erkki Martikainen says. In addition to engines, Patria provides maintenance services for other devices in vessels' engine rooms. "On combat vessels, for example, our service covers the entire power line from engines to clutches to shafts to gears, and further down to the water jet impeller*," Seppo Tamminen says. Patria's diesel engine repair shop carries out joint projects with the company's other business areas. For example, the extensive mid-life upgrade project for the Rauma Class Fast Attack Craft was implemented in collaboration with Patria Systems. Linnavuori had responsibility for overhauling the vessels' propulsion system**.
Nuclear power plants are demanding customers
Patria has been repairing reserve power diesel generators operated by nuclear power plants since 1992. Such generators are heavy-duty diesel engines, which are started up only if other sources of electricity become unavailable. Among other things, they ensure that the cooling system of a nuclear reactor remains operational if faults or failures occur. "These engines log few operating hours, but must be kept in working order at all times," says Anita Korsberg, a type-rated engineer for nuclear power plant engines in French- and German-speaking countries. The basic overhaul interval for reserve power engines varies from plant to plant. In calender time, a normal service interval would be 15 to 20 years. "When this interval has elapsed, each engine is given a complete overhaul, even if only the monthly test runs have been logged as operating hours. Just the ageing process of certain engine parts, such as rubber components, makes this necessary," emphasises Korsberg. At Linnavuori, the engine is disassembled. All engine parts are cleaned and inspected. Certain parts are replaced. Safety is an overriding concern at nuclear power plants. This is also true of engine maintenance. In addition to the relevant quality standards, the Finnish Radiation and Nuclear Safety Authority STUK provides guidelines directing work in Finland. With regard to work commissioned by foreign customers, Patria observes the quality standards and other provisions set by the customer and the authorities of the country in question. All maintenance measures must also be carefully documented. "A report is drafted for each work phase. The final report of a single engine maintenance operation can run to hundreds of pages, and in some cases to nearly a thousand," Korsberg says.
All parties benefit from collaboration
In addition to the reserve power engines at the Loviisa and Olkiluoto power plants, the Linnavuori repair shop has overhauled engines from customers such as the Swedish energy company Vattenfall, the French EDF and the Swiss KKW Gösgen-Däniken nuclear power plants. Several of Patria's customers use Wärtsilä SACM diesel engines for reserve power generation. Over the years, on several occasions Patria has invited its customers to join discussions on topical issues concerning engine maintenance. In 2011, Patria once again brought its nuclear power clients together to develop solutions for making better use of spare parts and technical expertise among users. "Operating licences for power plants have been extended, guaranteeing that the engines will be needed for decades to come. That is why the availability of spare parts is vital to the plants' continued operation," Korsberg says. Frequent contacts, comparing notes and, if necessary, exchange of spare parts will benefit all parties. "The cooperative network has proved really helpful. For example, an urgently needed spare part may be found at another nuclear power plant. Repair work will be further expedited by the fact that such a component is likely to have already been approved by the relevant authorities."   This article was published in the Patria magazine in December 2014.