Print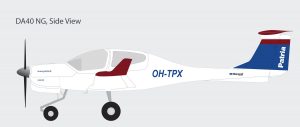 Patria purchased five training aircraft and two flight training simulators from the Austrian manufacturer Diamond Aircraft Industries GmbH. The purchase consists of four single engine DA40 NG aircraft and one DA42-VI multi-engine training aircraft.  Two Flight Navigation and Procedures Trainers (FNPT II) for DA42-VI aircraft are also included in the purchase.
"The new Diamond fleet will increase Patria´s training capacity considerably and will allow us to train our students faster in the very competitive training market. Diamond is well-known for its high quality aircraft and we are pleased to extend our cooperation with the company", states Lassi Matikainen, President, Patria Aviation.
The fleet and the simulators will be delivered before the end of August 2017 to Patria's new training center in Tampere-Pirkkala.